| | |
| --- | --- |
| Use Razor Gator while shaving to conserve up to 95% of water normally used during shaving. Razor Gator cleans shaving debris from your razor so you don't need as much running water to do it for you. Studies have shown water use for shaving with Razor Gator to be less than one gallon, as compared to a typical average of 12 gallons for the average shave (without Razor Gator) | |
World Drought
Global Overview of Water Shortage
More than half of humanity will be living with water shortages, depleted fisheries and polluted coastlines within 50 years because of a worldwide water crisis, warns a United Nations report out Monday.
Waste and inadequate management of water are the main culprits behind growing problems, particularly in poverty-ridden regions, says the study, the most comprehensive of its kind. The United Nations Environment Programme, working with more than 200 water resource experts worldwide, produced the report.
"Tens of millions of people don't have access to safe water. It is indeed a crisis," says Halifa Drammeh, who coordinates UNEP's water policies. The wide-ranging report, part of the UN's designation of 2003 as the International Year of Freshwater, also documents problems such as steep drops in the size of Asia's Aral Sea, Africa's Lake Chad and Iraq's Marshlands; the deterioration of coral reefs; and the rise of coastal waters because of climate changes. Some developing nations could face water shortages, crop failures and conflict over shrinking lakes and rivers if nothing is done to prevent wasteful irrigation and slow evaporation from reservoirs, and drinking-water systems are not repaired.
<image, water shortage—muddy water,
http://www.lilith-ezine.com/articles/environmental/images/WaterShortage.jpg>
Based on data from NASA, the World Health Organization and other agencies, the report finds:
Severe water shortages affecting at least 400 million people today will affect 4 billion people by 2050. Southwestern states such as Arizona will face other severe freshwater shortages by 2025.
Adequate sanitation facilities are lacking for 2.4 billion people, about 40% of humankind.
Half of all coastal regions, where 1 billion people live, have degraded through overdevelopment or pollution.
"The basic problem is poverty, not water," says water resources economist Chuck Howe of the University of Colorado in Boulder. About 90% of the severe problems are in developing nations, he says, where solutions to wasting water lie in better irrigation and water supply practices.
In developed nations such as Japan, the USA and in Europe, most water shortfalls arise from politically popular but inefficient subsidies and protections of agriculture, which accounts for 85% of freshwater consumption worldwide.
Along with drinking-water concerns, the report looks at global problems of oceans and seas:
Coral reefs, mangrove forests and sea grass beds, important grounds for young fish and for environmental needs, face threats from overfishing, development and pollution.
Oxygen-depleted seas, caused by industrial and agricultural runoff, could lead to fishery collapses and "dead zones" in such places as the Gulf of Mexico.
Wild-fish catches are leveling off worldwide. With 75% of fish stocks fully exploited, fleets have turned to fish lower on ocean food chains. Ecologists worry that entire fisheries will collapse as these "junk fish" are used up. Increased demand for fish is being made up through aquaculture, which brings other environmental concerns.
Drammeh hopes the report helps mobilize support for international organizations brokering water and fishery agreements that encourage better water management among nations. Developing regions don't need more dam-building projects, he says, but need more people trained to manage water systems.
http://www.usatoday.com/news/nation/2003-01-26-water-usat_x.htm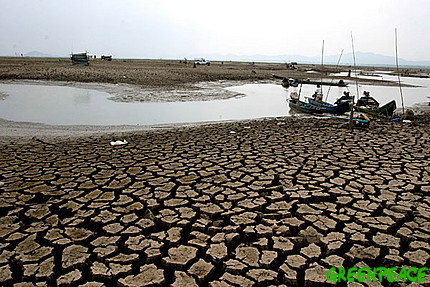 <image, greenpeace picture, waters-in-lam-takong-dam-in-ko.jpg>
The Continents
WASHINGTON – The harmful effects of global warming on daily life are already showing up, and within a couple of decades hundreds of millions of people won't have enough water, top scientists will say next month at a meeting in Belgium.
At the same time, tens of millions of people will be flooded out of their homes each year as the Earth reels from rising temperatures and sea levels, according to portions of a draft of an international scientific report obtained by The Associated Press.
Tropical diseases like malaria will spread. By 2050, polar bears will be found mostly in zoos, their habitats gone. Pests like fire ants will thrive.
For a time, food will be plentiful because of the longer growing season in northern regions. But by 2080, hundreds of millions of people could face starvation, according to the report, which still is being revised.
The draft document by the United Nations' authoritative Intergovernmental Panel on Climate Change focuses on global warming's effects and is the second in a series of four being issued this year. Written and reviewed by more than 1,000 scientists from dozens of countries, it still must be edited by government officials.
Some scientists said the overall message is not likely to change when the report is issued in early April in Brussels, the same city where European Union leaders agreed last week to drastically cut greenhouse gas emissions by 2020. Their plan will be presented to President Bush and other world leaders at a summit in June.
The U.N. report offers some hope if nations slow and ultimately reduce their greenhouse gas emissions, but it notes that what is happening now isn't encouraging.
"Changes in climate are now affecting physical and biological systems on every continent," the report states, in marked contrast to a 2001 report by the same international group that said the effects of global warming were coming. That report mentioned only scattered regional effects.
"Things are happening and happening faster than we expected," said Patricia Romero Lankao of the National Center for Atmospheric Research in Boulder, Colo., and one of the many co-authors of the new report.
The draft document says scientists are highly confident that many current problems – changes in species' habits and habitats, more acidified oceans, loss of wetlands, bleaching of coral reefs, and increases in allergy-inducing pollen – can be blamed on global warming.
The report finds that North America "has already experienced substantial ecosystem, social and cultural disruption from recent climate extremes," such as hurricanes and wildfires.
Current conditions are nothing compared with what is forecast for the future.
Global warming soon will "affect everyone's life. ... It's the poor sectors that will be most affected," Romero Lankao said.
Co-author Terry Root of Stanford University said: "We truly are standing at the edge of mass extinction" of species.
The report includes these likely results of global warming:

Hundreds of millions of Africans and tens of millions of Latin Americans who now have water will experience shortages in less than 20 years. By 2050, more than 1 billion people in Asia could face water shortages. By 2080, water shortages could threaten 1.1 billion to 3.2 billion people, depending on the level of greenhouse gases that cars and industry spew into the air.

Death rates for the world's poor from global-warming-related illnesses, such as malnutrition and diarrhea, will rise by 2030. Malaria and dengue fever, as well as illnesses from eating contaminated shellfish, are likely to grow.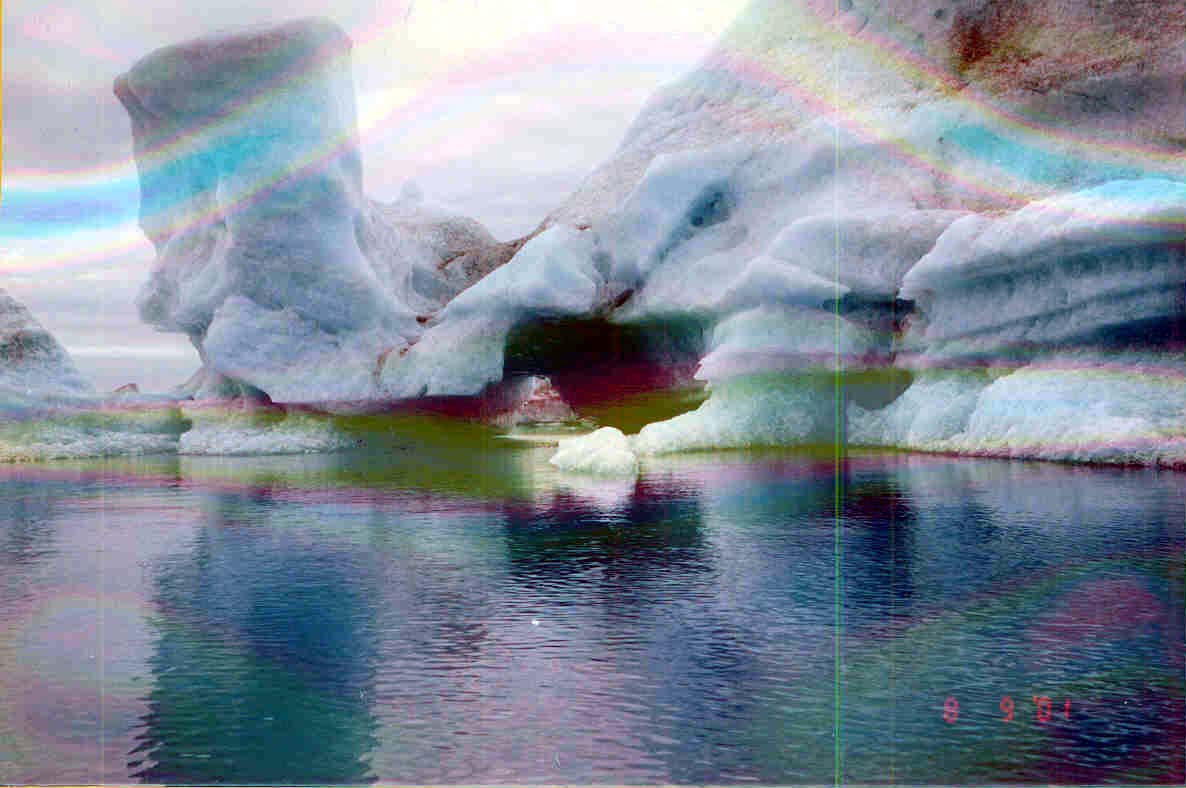 <image, glacial cave, glacier1_2.jpg>

Europe's small glaciers will disappear with many of the continent's large glaciers shrinking dramatically by 2050. Half of Europe's plant species could be vulnerable, endangered or extinct by 2100.

By 2080, between 200 million and 600 million people could be hungry because of global warming's effects.

About 100 million people each year could be flooded by 2080 by rising seas.

Smog in U.S. cities will worsen and "ozone-related deaths from climate (will) increase by approximately 4.5 percent for the mid-2050s, compared with 1990s levels," turning a small health risk into a substantial one.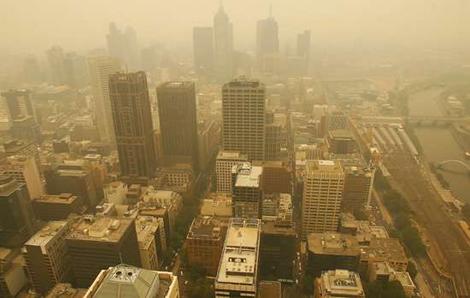 <image, city smog, smoke_wideweb__470x298,0.jpg>

Polar bears in the wild and other animals will be pushed to extinction.

At first, more food will be grown. For example, soybean and rice yields in Latin America will increase starting in a couple of years. Areas outside the tropics, especially the northern latitudes, will see longer growing seasons and healthier forests.
Looking at different impacts on ecosystems, industry and regions, the report sees the most benefit in forestry and some improved agriculture and transportation in polar regions. The biggest damage is likely to come in ocean and coastal ecosystems, water resources and coastal settlements.
The hardest-hit continents are likely to be Africa and Asia, with major harm also coming to small islands and some aspects of ecosystems near the poles. North America, Europe and Australia are predicted to suffer the fewest harmful effects.
"In most parts of the world and most segments of populations, lifestyles are likely to change as a result of climate change," the draft report stated. "Net valuations of benefits vs. costs will vary, but they are more likely to be negative if climate change is substantial and rapid, rather than if it is moderate and gradual."
The report – considered by some scientists the "emotional heart" of climate change research – focuses on how global warming alters the planet and life here, as opposed to the more science-focused report by the same group last month.
"This is the story. This is the whole play. This is how it's going to affect people," said University of Victoria climate scientist Andrew Weaver. "The science is one thing. This is how it affects me, you and the person next door."
Many – but not all – of those effects can be prevented, the report says, if the world slows its emissions of carbon dioxide within a generation and if the level of greenhouse gases stabilizes. Should this happen, the report says, "most major impacts on human welfare would be avoided; but some major impacts on ecosystems are likely to occur."
The United Nations-organized network of 2,000 scientists was established in 1988 to give regular assessments of the Earth's environment. The document issued last month in Paris concluded that scientists are 90 percent certain that humans are the cause of global warming and that warming will continue for centuries.
News_1n11warming.html
U.S.A--Florida
West Palm Beach, FL – Welcomed, recent rains did little to improve drought-related conditions across South Florida as water levels continue to drop. Today, the Governing Board of the South Florida Water Management District (SFWMD) declared a severe water shortage in most of its 16-county territory and an extreme water shortage in the Everglades Agricultural Area.

<image, florida water shortage map, ind_pra_rule_2.jpg>
As part of a series of orders approved today by the SFWMD Governing Board, the SFWMD has formally issued the following, which are effective April 13:
Modified Phase III, or extreme, water shortage declaration for Everglades Agricultural Area basins located within the Lake Okeechobee Service Area
Phase II, or severe, water shortage declaration for the Lower East Coast Service Area, which comprises eastern Palm Beach, Broward, Miami-Dade and Monroe counties, along with a small portion of Martin County served by Tequesta Water Utilities
Phase II, or severe, water shortage declaration for the Lower West Coast Service Area, which comprises Lee, Collier, Hendry, Glades and a portion of Charlotte Counties
Phase I, or moderate, water shortage declaration for the Upper East Coast Service area, which comprises Martin and St. Lucie counties.
Existing Phase II restrictions continue for the remaining portions of the Lake Okeechobee Service Area, along with a cease withdrawal order for SFWMD-permitted agricultural users in Martin and St. Lucie counties withdrawing from District canals.
A detailed Water Delivery Plan affecting agricultural users in the Lake Istokpoga area was also approved. Phase II restrictions are now in effect for other users in this area.
"We appreciate the public's understanding and compliance with the new water use restrictions," said Kevin McCarty, chairman of the SFWMD Governing Board. "This new set of restrictions represents some of the toughest cutbacks we've ever had to endure in South Florida, but we're all in this together and we all have to do our part."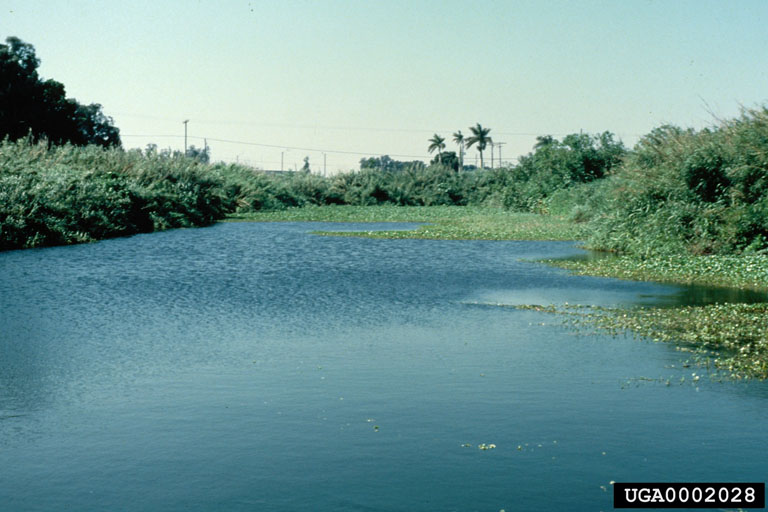 <image, lake Okeechobee, 0002028.jpg>
The water level in Lake Okeechobee, the source of water for the Florida Everglades and the primary back-up water supply for most residents of the SFWMD, is at the lowest elevation ever recorded in the month of April. If drought conditions persist, water managers expect the lake level to drop below its record low of 8.97 feet above sea level, recorded on May 24, 2001. At just over 10 feet above sea level today, the lake level is so low this year that water from the lake cannot be used to replenish the regional supply.
"We're at a point where every drop of water makes a difference, and water conservation needs to be part of everyone's daily routine," said Carol Ann Wehle, executive director of the SFWMD. "Despite recent rain events, we have entered what may be the worst drought in recordable South Florida history, and even this latest action from our Governing Board may not be enough to see us through the current dry season without the need for further restrictions."
Under the new restrictions, residents in the Lower East Coast and Lower West Coast will be limited to a two-day-per-week, four-hour-per-day irrigation schedule, and permitted water users, such as golf courses and large commercial users, will be required to achieve a 30-percent reduction in their overall water consumption. Residents in the Upper East Coast will be required to observe a three-day-per-week, four-hour-per-day irrigation schedule, and permitted water users here will be required to achieve a 15-percent reduction in their overall water consumption. These restrictions apply to all water from traditional sources, including water from public utilities, private wells, canals, ponds and lakes.


<image, water supply—florida, aqumap.gif>
Agricultural users in the Everglades Agricultural Area will be required to achieve a 45-percent reduction in their overall water consumption. The remaining agricultural users in the Lake Okeechobee Service Area will be required to achieve a 30-percent reduction in their overall water consumption. Residential users whose water source is Lake Okeechobee or any of the surface water canals recharged by the Lake will continue to follow a two-day-per-week, four-hour-per-day irrigation schedule.
http://www.dep.state.fl.us/Drought/news/2007/0412.htm
Water – The Miracle Compound

Good website explaining the properties of water --
http://www.uni.edu/~iowawet/H2OProperties.html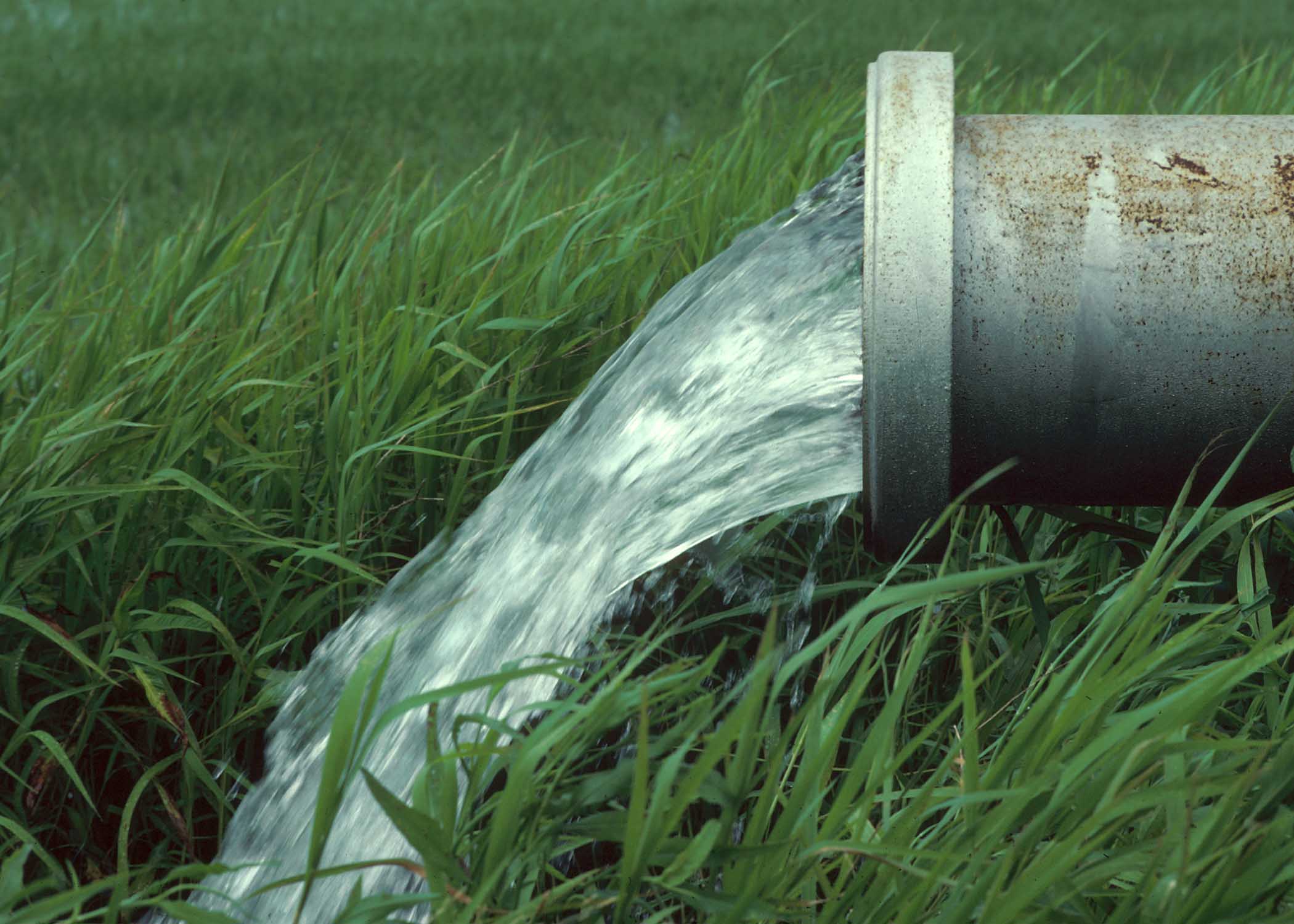 <image, water flowing abundantly from pipe, water1.jpg>
Water (H2O) is often perceived to be ordinary as it is transparent, odorless, tasteless and ubiquitous. It is the simplest compound of the two most common reactive elements, consisting of just two hydrogen atoms attached to a single oxygen atom. Indeed, very few molecules are smaller or lighter.
Liquid water, however, is the most extraordinary substance. Although we drink it, wash, fish and swim in it, and cook with it (although probably not all at the same time), we nearly always overlook the special relationship it has with our lives. Droughts cause famines and floods cause death and disease. It makes up over about half of us and, without it, we die within a few days. It has importance as a solvent, a solute, a reactant and a biomolecule, structuring proteins, nucleic acids and cells and controlling our consciousness. Water is the second most common molecule in the Universe (behind hydrogen, H2) and fundamental to star formation. Life cannot evolve or continue without liquid water, which is why there is so much fuss about finding it on Mars and other planets and moons. It is unsurprising that water plays a central role in many of the World's religions.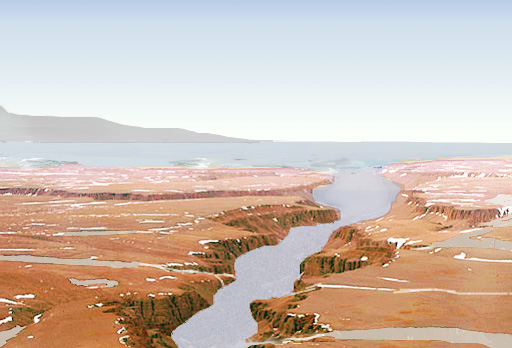 <image, water on mars? mars-sea2-sm.jpg>
Water is the most studied material on Earth but it is remarkable to find that its behavior and function are so poorly understood (or even ignored), not only by people in general, but also by scientists working with it everyday. The small size of its molecule belies the complexity of its actions and its singular capabilities. Liquid water's unique properties and chameleonic nature seem to fit ideally into the requirements for life as can no other molecule.
A number of explanations of the complex behavior of liquid water have been published, many quite recently, with several stirring up great controversy. In this site, I have attempted to present these ideas in a self-consistent and balanced manner, which I hope will encourage both its understanding and further work.
http://www.lsbu.ac.uk/water/
Water and the Global Environment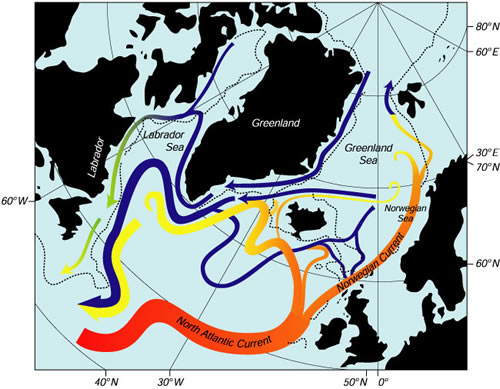 <image, water currents, gulfstream_schematic_or.jpg>
As floods devastated central Europe and Asia this summer, climate scientists found themselves in great demand from journalists struggling to explain the connections between recent catastrophic weather and expected long-term changes in climate.
The problem for climate scientists lies in determining whether recent events fall outside natural variability: a single summer of excessive rainfall could be just the 100-year or even 1000-year flood. But it is clear that water and climate are — and always have been — intricately linked. Changes in climate are likely to bring changes to the hydrological cycle — the most important feedback cycle in the Earth's climate system.
The oceans play the central role in this feedback loop via heat storage and transport around the globe. Atmospheric water vapour produces rainfall, and acts as the most important greenhouse gas. But through the formation of clouds, water vapour also leads to the reflection of sunlight back into space. And over geological time-scales, the waxing and waning of ice sheets changes the reflection of the sun's light back into space, and largely determines the sea level.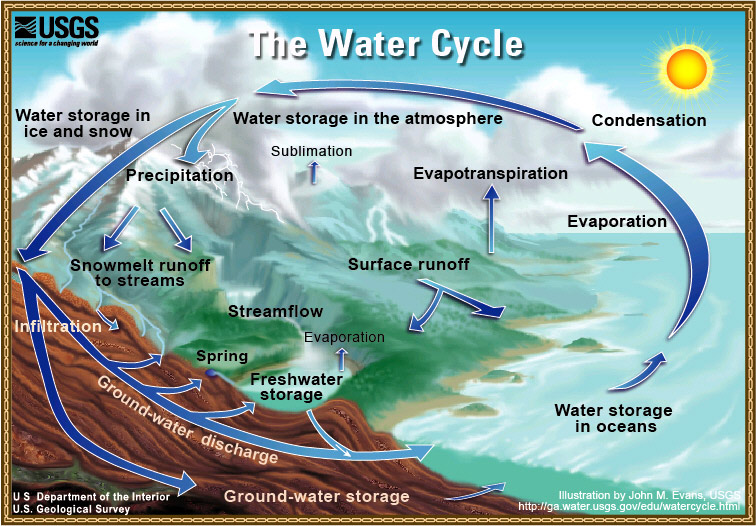 <image, water cycle, water_cycle_usgs_big.jpg>
This web focus encompasses a specially commissioned Insight on Climate and Water, together with a selection of recent articles handpicked from the pages of Nature, all of which illuminate the connections between climate and water in ice, oceans and atmosphere.
http://www.nature.com/nature/climate/index.html
Water and the Human Body
Percentage of Water:
New born baby ~ 77%
Grown-up man ~ 65%
Grown-up woman ~ 58%
The elderly ~ 50% W

<image, human body, Articles_anatomy_full.jpg>
Water:
1. It delivers oxygen and nutrients to different parts of the body.
2. It removes toxins and waste from the body. Other functions of water 1. Regulates body temperature through perspiration.
2. Reduces friction between joints and facilitates movement.
3. Acts as a cushion between organs in order to protect them.
4. Facilitates normal functions of body processes.

http://www.be-with-you.com/dew/WaterAndOurBody.html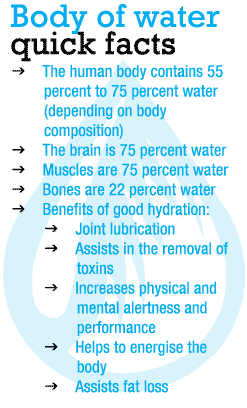 <image, quick facts, body-of-water.gif>
Every living thing must keep its water supply near normal, or it will die. Human beings can live without food for several weeks, but they can live without water for only about one week. If the body loses more than 20 percent of its normal water content, a person will die painfully. Human beings should take in about 2 1/2 quarts (2.4 litres) of water a day. This intake can be in the form of beverages we drink, or water in food (Batmanghelidj.)
Dehydration on the Human Body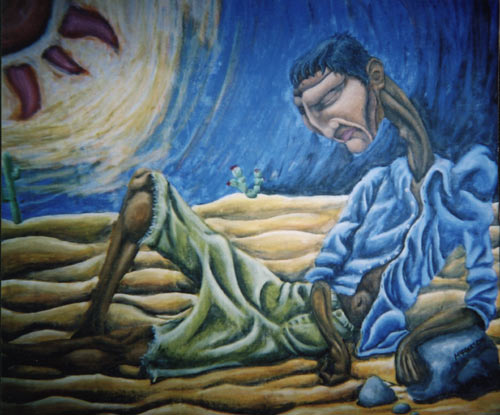 <image, dehydration art, 16_dehydration_hallucination.jpg>
Dehydration is a condition that occurs when a person loses more fluids than he or she takes in. Dehydration isn't as serious a problem for teens as it can be for babies or young children. But if you ignore your thirst, dehydration can slow you down.
Our bodies are about two thirds water. When someone gets dehydrated, it means the amount of water in his or her body has dropped below the level needed for normal body function. Small decreases don't cause problems, and in most cases, they go completely unnoticed. But losing larger amounts of water can sometimes make a person feel quite sick.
Kid's Health: Dehydration
Dehydration can be defined as "the excessive loss of water from the body." Diseases of the gastrointestinal tract can lead to dehydration in various ways. Often, dehydration becomes the major problem in an otherwise self-limited illness. Fluid loss may even be severe enough to become life-threatening.
The following information is designed to provide some understanding and guidance in order to avoid the effects of dehydration. Treatment, however, should be individualized, and your physician should be contacted before using any of the measures outlined here.
Our bodies require a certain amount of fluid intake on a daily basis to function; the minimum is about equal to four 8 ounce glasses (one liter or one quart). Requirements vary with activity and age, but most active persons need two to three times this basic amount. Basic fluid intake serves to replace the fluids which are required to perform our normal bodily functions. If we take in less or lose more fluid than is needed, the end result is dehydration.
http://www.medicinenet.com/dehydration/article.htm#what
Causes
One common cause of dehydration in teens is gastrointestinal illness. When you're flattened by a stomach bug, you lose fluid through vomiting and diarrhea.
You might also hear that you can get dehydrated from playing sports. In reality, it's rare to reach a level of even moderate dehydration during sports or other normal outdoor activity. But if you don't replace fluid you lose through sweat as you go, you can become dehydrated from lots of physical activity, especially on a hot day.
Some athletes, such as wrestlers who need to reach a certain weight to compete, dehydrate themselves on purpose to drop weight quickly before a big game or event by sweating in saunas or using laxatives or diuretics, which make a person go to the bathroom more. This practice usually hurts more than it helps, though. Athletes who do this feel weaker, which affects performance. They can also have more serious problems, like abnormalities in the salt and potassium levels in the body. Such changes can also lead to problems with the heart's rhythm.
Dieting can sap a person's water reserves as well. Beware of diets or supplements, including laxatives and diuretics that emphasize shedding "water weight" as a quick way to lose weight. Losing water weight is not the same thing as losing actual fat.
Kid's Health: Dehydration
Signs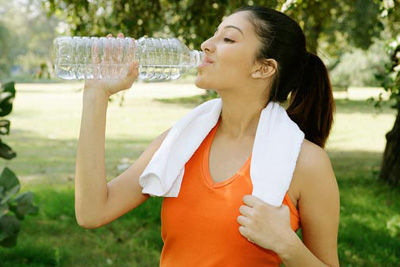 <image, combat dehydration, dehydration.jpg>
To counter dehydration, you need to restore the proper balance of water in your body. First, though, you have to recognize the problem.
Thirst is one indicator of dehydration, but it is not an early warning sign. By the time you feel thirsty, you might already be dehydrated. Other symptoms of dehydration include:
feeling dizzy and lightheaded
having a dry or sticky mouth
producing less urine and darker urine
As the condition progresses, a person will start to feel much sicker as more body systems (or organs) are affected by the dehydration.
Kid's Health: Dehydration
Global Warming and Water Shortage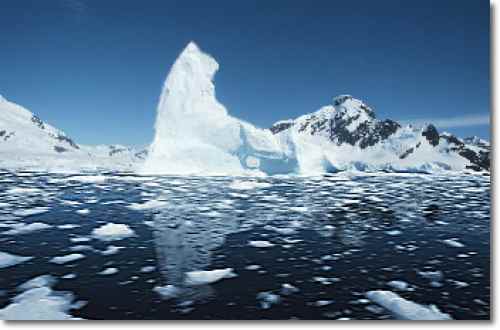 <image, melting ice, globwarm_ttl.jpg>
A third of the world's population lives in countries that find it difficult or impossible to meet water needs, a proportion that could double by 2025, said Rajendra K. Pachauri, chairman of the UN Intergovernmental Panel on Climate Change (IPCC), Wednesday.
In developing countries, about 14,000 to 30,000 people die each day in developing countries from water-related diseases, Pachauri said at a conference of the IPCC Working Group I for the Fourth Assessment Report held in Beijing, which will end on Thursday.
Climate changes, including rising temperatures and sea levels, precipitation change, droughts and floods may wield great power over human and natural systems, he said.
Water shortage will be the most serious issue, affecting food production and bio-diversity as well as human water consumption, he said.
The world has to rethink socio-economic development, including economic growth technology and population governance, to adapt to these changes, he said.
Among the measures, 141 nations signed the UN Kyoto Protocol early this year, aiming to cut greenhouse gas emissions that fuel global warming. It imposes caps on carbon dioxide emissions, mainly from burning fossil fuels in power plants, factories and cars, in 35 developed nations.
China, as a developing country, will have to reduce carbon dioxide emissions to much lower levels in the later practice phase of the Protocol, but China will face great difficulties since the country relies largely on fossil fuel coal, said Qin Dahe, director of China Meteorological Administration and Co-chair of the IPCC Working Group I for the Fourth Assessment Report.
With limited funds, China faces great challenges in developing technologies to adjust industrial structure and reduce carbon dioxide emission, without compromising the growth of the populous developing country, he said.
The report under discussion will be issued in 2007 by the IPCC, the UN's top expert group, and the first comprehensive report on greenhouse gases was made in 2001, which calculated that, by 2100, temperatures would rise by 1.4 degrees Celsius (2.5 F) to 5.8 degrees Celsius (10.4 F) compared to 1990.
The predicted consequences ranged from additional stress on water and food supplies in hot tropical countries to prolonged droughts and floods, violent storms, shrinkage of the polar ice caps and the meltdown of alpine glaciers.
http://www.chinadaily.com.cn/english/doc/2005-05/11/content_441252.htm
Environmentalists from around the world are meeting in Montreal, Canada, to discuss global warming and slowing the effects of greenhouse gas emissions. The conference attendees are also discussing what to do after the Kyoto Protocol, an international agreement setting future greenhouse emissions targets for countries that agree to its terms. The United States refuses to join the Protocol for economic reasons. Scientists are saying one aspect of global warming could be a water shortage.
Scientists at the Scripps Institution of Oceanography predict there will be a water shortage due to global warming in as little as 20 years in the United States. Their study shows water supplies from glaciers and snow reserves will dwindle as more of the polar icecap melts.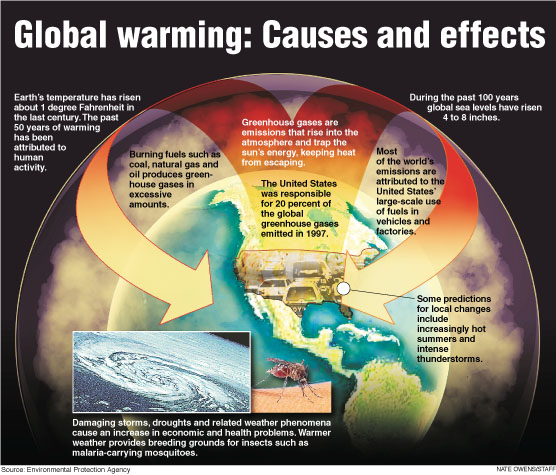 <image, global warming causes, what-is-global-warming-img.jpg>
Dr. Tim Barnett is with the Scripps Institution. "In a warmer world, there is less snowfall, right? Because it's warmer. And in a warmer world, the snow melts earlier. That -- that's the bottom line. That's all that is behind it."
Scientists say the timeline for loss of water in other parts of the world will vary, but it will not happen overnight.
"For other places in the world like Peru, probably sooner, and yet other places like China, maybe a little bit later," said Dr. Barnett. "So it's not something you're going to wake up to in the morning and say, 'Oh my God, we're out of water,' it's not going to happen like that, it will just be slow."
Greenhouse gases -- gases that trap heat and contribute to global warming -- play a significant role in accelerating the melting process in ice- and snow-dependent regions. This, in turn, affects our fresh water supply.
"It's like having a credit card and spending wildly, and not thinking about how you're going to pay it off."
Dr. Barnett recommends water conservation, such as using recycled water, and desalinization plants.
But even salt water may be scarcer. Over the years, even the Dead Sea, a body of salt-water that is replenished by fresh water from the Jordan River, has shrunk significantly.
The U.S.-based Pew Center on Global Climate Change also released a report on global warming. The report recommends a flexible international framework allowing countries to take on different types of climate commitments.
To accomplish this goal, the report urges a closer political dialogue among major economies to find post Kyoto Protocol strategies -- much like the conference going on in Montreal now.
The Kyoto Protocol expires in 2012.
http://www.voanews.com/english/archive/2005-11/2005-11-30-
voa31.cfm?CFID=181918417&CFTOKEN=98175745
Tips on Conserving Water
Ten ways that will save the most:
1. Water your lawn only when it needs it. Step on your grass. If it springs back, when you lift your foot, it doesn't need water. So set your sprinklers for more days in between watering. Saves 750-1,500 gallons per month. Better yet, especially in times of drought, water with a hose. And best of all, convert your lawn to native plants.
2. Fix leaky faucets and plumbing joints. Saves 20 gallons per day for every leak stopped.
3. Don't run the hose while washing your car. Use a bucket of water and a quick hose rinse at the end. Saves 150 gallons each time. For a two-car family that's up to 1,200 gallons a month.
4. Install water-saving shower heads or flow restrictors. Saves 500 to 800 gallons per month.
5. Run only full loads in the washing machine and dishwasher. Saves 300 to 800 gallons per month.
6. Shorten your showers. Even a one or two minute reduction can save up to 700 gallons per month.
7. Use a broom instead of a hose to clean driveways and sidewalks. Saves 150 gallons or more each time. At once a week, that's more than 600 gallons a month.
8. Don't use your toilet as an ashtray or wastebasket. Saves 400 to 600 gallons per month.
9. Capture tap water. While you wait for hot water to come down the pipes, catch the flow in a watering can to use later on house plants or your garden. Saves 200 to 300 gallons per month.
10. Don't water the sidewalks, driveway or gutter. Adjust your sprinklers so that water lands on your lawn or garden where it belongs--and only there. Saves 500 gallons per month.
http://www.monolake.org/socalwater/wctips.htm#topten
In the bathroom: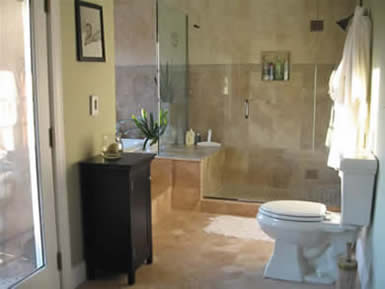 <image, bathroom, bathroom_remodel_potomac_2_001.jpg>
1. Use Razor Gator while shaving to conserve up to 95% of water normally used during shaving. Razor Gator cleans shaving debris from your razor so you don't need as much running water to do it for you. Studies have shown water use for shaving with Razor Gator to be less than one gallon, as compared to a typical average of 12 gallons for the average shave (without Razor Gator) To save even more water, turn off the water while shaving, in between swipes. Fill the bottom of the sink with a few inches of water to rinse your razor.
2. Put a plastic bottle or a plastic bag weighted with pebbles and filled with water in your toilet tank. Displacing water in this manner allows you to use less water with each flush. Saves 5 to 10 gallons a day. That's up to 300 gallons a month, even more for large families. Better yet, for even greater savings, replace your water-guzzling five to seven gallon a flush toilet with a one and a half gallon, ultra-low flush model.
3. If you're taking a shower, don't waste cold water while waiting for hot water to reach the shower head. Catch that water in a container to use on your outside plants or to flush your toilet. Saves 200 to 300 gallons a month.
4. Check toilet for leaks. Put dye tablets or food coloring into the tank. If color appears in the bowl without flushing, there's a leak that should be repaired. Saves 400 gallons a month.
5. Turn off the water while brushing your teeth. Saves three gallons each day.
http://www.monolake.org/socalwater/wctips.htm#topten
In the kitchen: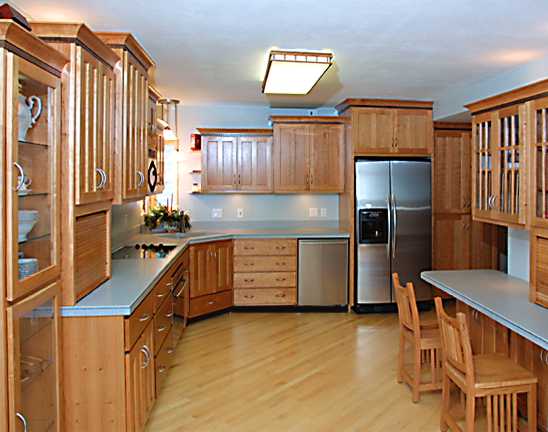 <image, kitchen, kitchen1.jpg>
1. If you wash dishes by hand--and that's the best way--don't leave the water running for rinsing. If you have two sinks, fill one with rinse water. If you only have one sink, use a spray device or short blasts instead of letting the water run. Saves 200 to 500 gallons a month.
2. When washing dishes by hand, use the least amount of detergent possible. This minimizes rinse water needed. Saves 50 to 150 gallons a month.
3. Keep a bottle of drinking water in the refrigerator. This beats the wasteful habit of running tap water to cool it for drinking. Saves 200 to 300 gallons a month.
4. Don't defrost frozen foods with running water. Either plan ahead by placing frozen items in the refrigerator overnight or defrost them in the microwave. Saves 50 to 150 gallons a month.
5. Don't let the faucet run while you clean vegetables. Rinse them in a filled sink or pan. Saves 150 to 250 gallons a month.
6. Use the garbage disposal less and the garbage more (even better--compost!). Saves 50 to 150 gallons a month.
http://www.monolake.org/socalwater/wctips.htm#topten
Outside: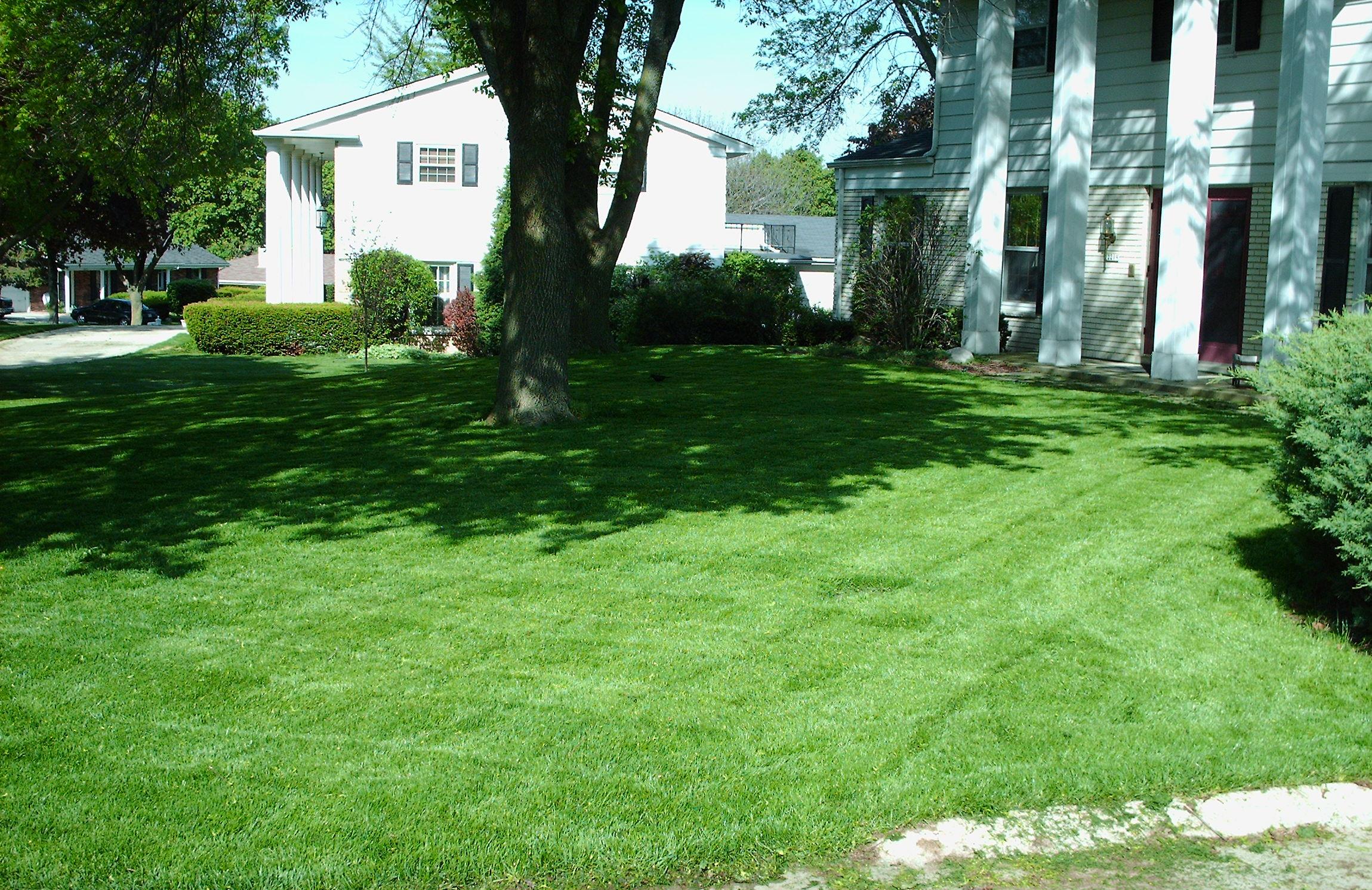 <image, outside, Front%20lawn.JPG>
1. Put a layer of mulch around trees and plants. Chunks of bark, peat moss or gravel slows down evaporation. Saves 750 to 1,500 gallons a month.
2. If you have a pool, use a pool cover to cut down on evaporation. It will also keep your pool cleaner and reduce the need to add chemicals. Saves 1,000 gallons a month.
3. Water during the cool parts of the day. Early morning is better than dusk since it helps prevent the growth of fungus. Saves 300 gallons.
4. Don't water the lawn on windy days. There's too much evaporation. Can waste up to 300 gallons in one watering.
5. Cut down watering on cool and overcast days and don't water in the rain. Adjust or deactivate automatic sprinklers. Can save up to 300 gallons each time.
6. Set lawn mower blades one notch higher. Longer grass means less evaporation. Saves 500 to 1,500 gallons each month.
7. Have an evaporative air conditioner? Direct the water drain line to a flower bed, tree base, or lawn.
8. Drive your car onto a lawn to wash it. Rinse water can help water the grass.
9. Tell your children not to play with the garden hose. Saves 10 gallons a minute.
10. If you allow your children to play in the sprinklers, make sure it's only when you're watering the yard--if it's not too cool at that time of day.
11. Xeriscape--replace your lawn and high-water-using trees and plants with less thirsty ones. But do this only in wet years. Even drought resistant plantings take extra water to get them going. That'll save 750 to 1,500 gallons a month.
12. When taking your car to a car wash--a good idea for saving water--be sure it's one of the many that recycles its wash water.
13. Dispose of hazardous materials properly! One quart of oil can contaminate 250,000 gallons of water, effectively eliminating that much water from our water supply. Contact your city or county for proper waste disposal options. And don't flush prescription medications!
http://www.monolake.org/socalwater/wctips.htm#topten